HONOLULU (AP) — EDITOR'S NOTE — On Dec. 7, 1941, as Japanese bombs rained down on Pearl Harbor, The Associated Press' chief of bureau in Honolulu, Eugene Burns, was unable to get out the urgent news of the historic attack that would draw the U.S. into World War II.
The military had already taken control of all communication lines, so Burns was left without a line to the outside world. In Washington, AP editor William Peacock and staff got word of the attack from President Franklin D. Roosevelt's press secretary. In the language and style used by journalists of his era, including the use of a disparaging word to describe the Japanese that was in common use, Peacock dictated the details of the announcement. Seventy-five years after their original publication, the AP is re-publishing these dispatches.
___
FLASH
WASHINGTON — White House says Japs attack Pearl Harbor.
BULLETIN
WASHINGTON, Dec. 7 (AP) — President Roosevelt said in a statement today that the Japanese had attacked Pearl Harbor, Hawaii, from the air.
The attack of the Japanese also was made on all naval and military "activities" on the island of Oahu.
The president's brief statement was read to reporters by Stephen Early, presidential secretary. No further details were given immediately.
At the time of the White House announcement, the Japanese ambassadors, Kichisaburo Nomura and Saburo Kurusu, were at the State Department.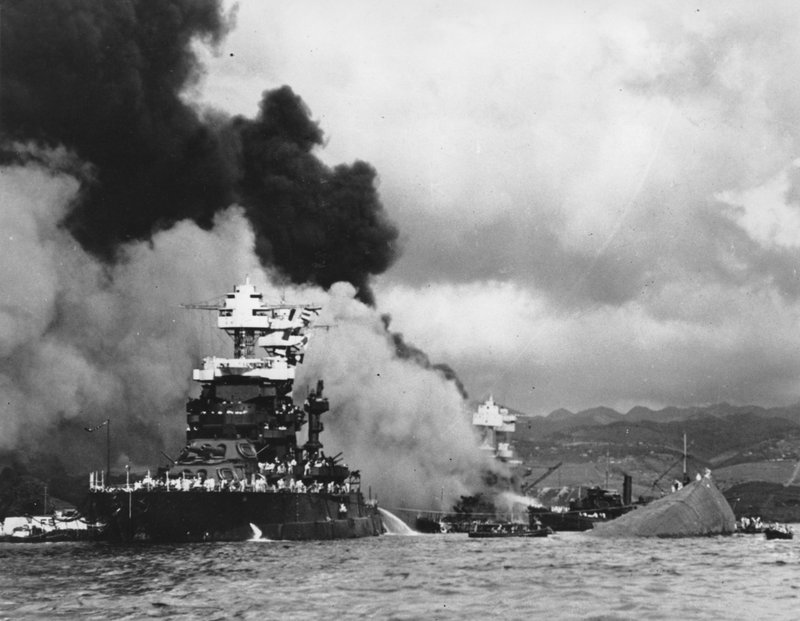 FILE - In this Dec. 7, 1941 file photo, part of the hull of the capsized USS Oklahoma is seen at right as the battleship USS West Virginia, center, begins to sink after suffering heavy damage, while the USS Maryland, left, is still afloat in Pearl Harbor, Oahu, Hawaii. (AP Photo/U.S. Navy, File)