Brian Doherty | Hit & Run -- Rolling Stone features another of its many mega-cover story interviews with Bob Dylan--a character always valuable, or at least amusing, to listen to. (The interview is not yet online, but appears in the Sept 27 issue of Rolling Stone, with a riverboat gambler looking Dylan on the cover.)
Dylan talks about his new album, a bit about his apparent belief that the soul of a dead Hell's Angel named Bobby Zimmerman (Dylan's own birth name) took over his body in the 1960s (really, and I can't explain it either), Dylan's annoyance with people who attack him for using lines from other poets in his songs, and many other interesting things.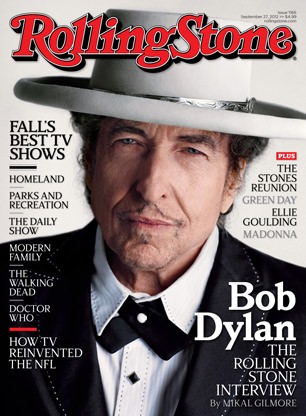 But around 10 percent of the interview is dedicated to a bizarre performance from interlocutor Mikal Gilmore seeming desperate to get Bob Dylan to say that he thinks criticism of Barack Obama is based on racism, say he voted for Obama, or say he really likes Obama.
Dylan leads into it with an impassioned and intelligent discussion of how the stain of slavery shapes this nation. "This country is just too fucked up about color....People at each others throats because they are of a different color. It's the height of insanity, and it will hold any nation back--or any neighborhood back....It's a country founded on the backs of slaves....If slavery had been given up in a more peaceful way, America would be far ahead today."
This gives Gilmore his hook: didn't Obama change all that? And isn't it so that people who don't like him don't like him because of race? Gilmore takes five different swings at getting Dylan to agree. Some of Dylan's responses: "They did the same thing to Bush, didn't they? They did the same thing to Clinton, too, and Jimmy Carter before that....Eisenhower was accused of being un-American. And wasn't Nixon a socialist? Look what he did in China. They'll say bad things about the next guy too." On Gilmore's fourth attempt, Dylan just resorts to: "Do you want me to repeat what I just said, word for word? What are you talking about? People loved the guy when he was elected. So what are we talking about? People changing their minds?"
Gilmore then tries to get Dylan to say if he votes. Dylan won't, though he is browbeaten into a generic public service announcement declaration that "We live in a democracy. What do you want me to say? Voting is a good thing."
Then Gilmore gets more direct: what does Dylan think of Obama? Dylan first deflects with: "You should be asking his wife what she thinks of him." It's great Dylan--sly, human, trying to focus from the fuzzy big picture to what matters: man and woman, husband and wife. Then: "He loves music. He's personable. He dresses good. What the fuck do you want me to say?" ... Full Post...